When I arrived at Eastside five years ago my classroom was a blank canvas, literally. There were six computers, two white boards and one bulletin board tucked away in a corner.

You get the idea by looking at the backdrop of this photo from a staff birthday party taken that first year.
My effort to personalize the space all started with a plant that is still on my desk thriving.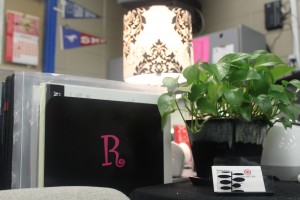 One by one I added a little something here and there.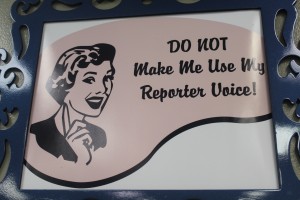 Including original art from former students which I treasure.

A Wall of Winners recognizes students achievement and serves as motivation for others.

Now I am tackling the mess that is… THE CONTROL ROOM.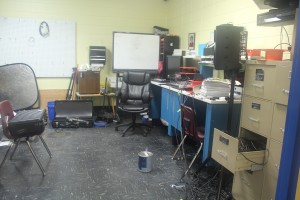 It was a mess when I got here. Years of stuff piled up on shelves and in boxes. Each year I have cleaned and purged. I have finally reached the point I am able to get in and get this room to the space I envision it for broadcast production. It started a couple weeks ago taking down shelves and priming them so I can cover up the dreary wood with something more aesthetically pleasing.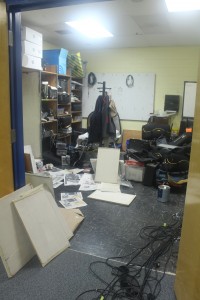 I am in the middle of the painting process. But somehow when you tackle a project like this, it seems to always look worse before it gets better.

With the three day weekend ahead, I hope to finish the painting so this room will be one step closer to completion. As we say in the business, stay tuned.